The ceremony was held in the presence of Deputy General Director Nguyen Sinh Khang, Deputy General Director Nguyen Vu Truong Son (PVN); General director Tu Thanh Nghia, Chief engineer Tran Van Vinh (Vietsovpetro); Deputy General Director Nguyen Quoc Huy and Deputy General Director Nguyen Mau Dung (PV Gas).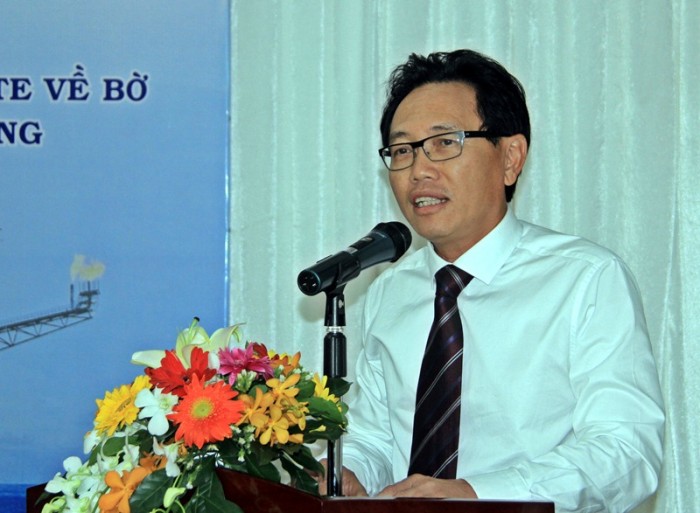 In progress of developing Thien Ung Field and gathering associated gas from Dai Hung Field, Petrovietnam has assigned Vietsovpetro to execute "Suplementing/upgrading the infrastructure of Bach Ho Field" for the aim of utilizing existing infrastructure at Bach Ho Field in order to receive, process and transport gas sources from Thien Ung – Dai Hung and other gas sources to ashore.
This project plays an important role in implementing and executing Nam Con Son 2 project phase 1, which supplies gas from Thien Ung – Dai Hung and other nearby fields, serving increasing gas demand in the Southeast region.
Until now, Vietsovpetro has basically completed the whole project and it's now ready to receive first gas from Thien Ung – Dai Hung.
During the execution of the project "Suplementing/upgrading the infrastructure of Bach Ho Field", Vietsovpetro has installed and operated the new air compressor combination no. 6 in Bach Ho Field, helping increase the capability of receiving, processing and transporting gas from other gas fields in Cuu Long basin to ashore, improving business efficiency of PVN, Vietsovpetro, PV GAS.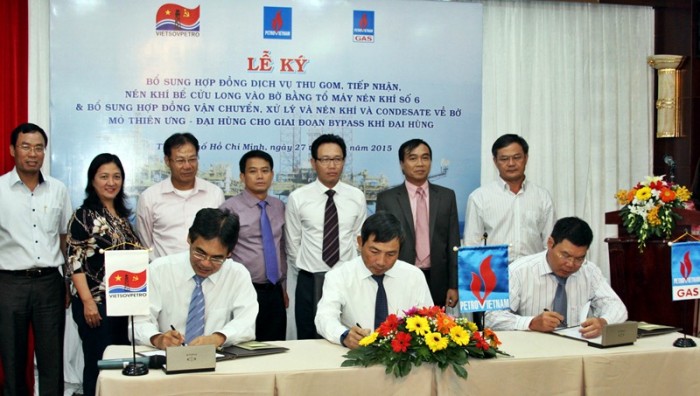 By its competence and experience, Vietsovpetro successfully accomplished this item and put it into operation from July 17, 2015, 3 months earlier than the schedule.
Since being operated on July 17, combination no. 6 has compressed and transport ashore an approximate amount of 1.5 million m3 of gas from gas fields every day and night, a very important contribution in ensuring the production of gas for onshore consumption, and significantly increased revenue for PVN, PV GAS and Vietsovpetro.
By the date that Thien Ung drilling rig is officially activated, combination no. 6 will have compressed about 350 million m3 of gas, equivalent to 1,500 billion dong of revenue for PVN and the Government.
Besides, the reception of Dai Hung gas without crossing through Thien Ung drilling rig and transporting straight into the Nam Con Son 2 pipelines - Phase 1 is the great effort of the involved parties in order to optimize the associated gas exploitation from Dai Hung. It's not only restraining the waste of resources, but also providing a significant amount of gas for PV GAS to deliver to consumers. Currently, Vietsovpetro has completed the installation of bypass, ready for Dai Hung gas reception at Bach Ho Field.
To set up the basis for 2 programs above, PVN, Vietsovpetro and PV Gas has negotiated to sign additional services contract for gathering, compressing Cuu Long gas to compress gas in the area by using combination no. 6; addtional contract for shipping, disposing and consendating to ashore from Thien Ung – Dai Hung Field between Vietsovpetro and PV Gas to process Dai Hung gas during bypass phase (not transiting through Thien Ung drilling rig).
By signing those contracts, in addition to the benefit for the involved parties, it is also a testament of the excellent and long-lasting co-operation between Vietsovpetro and PV GAS, demonstrates the workforce's ability to carry out creation and innovation of existing gas projects and other future projects of Vietnam Oil and Gas, marking a great success and confirming the confidence when using services of two leading organizations in Vietnam Oil and Gas industry.
Speaking at the ceremony, representatives of PVN, PV GAS and Vietsovpetro all expressed their joy about the steadfast process of economics and trade co-operation between the parties in the past, as well as showed their confidence in the future development of Vietnam Oil and Gas industry.
According to PVN